The Top 5 Holiday Destinations For Seniors
Category | Travel Tips
Published: 18/06/2018
| Updated: 26/09/2023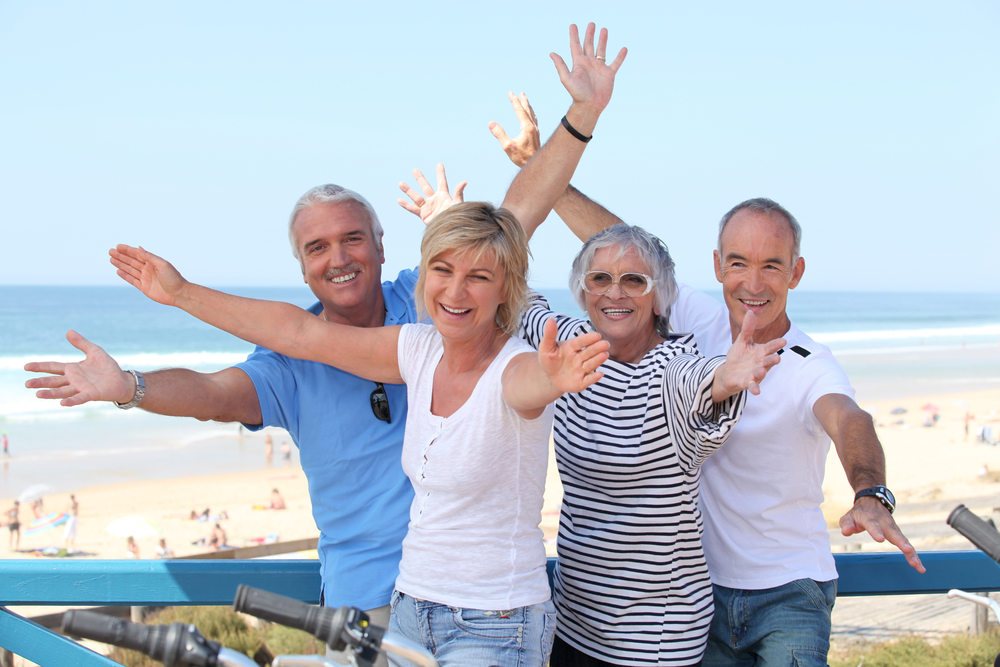 Travel Can Enhance Your Retirement Years
This time out, we're offering up the Top 5 holiday destinations for seniors. We hope it will prove helpful the next time you plan a trip. Because that's why ACE-FX is here-- to fulfill your travel financial service needs one transaction at a time. As you know, all of our services are backed by MoneyCorps. Combining these two reputable companies means your money is safe and secure with us, whether you want to transfer money online or have foreign currency home delivered. And perhaps most importantly, you'll get the best currency exchange rates without exposing yourself to foreign money transfer scams.
The Old World Charm of Prague
We'll take you first to beautiful Prague in the Czech Republic, one of the most revered cities in all of Central Europe. With its narrow cobblestone streets, Gothic architecture, and medieval castles, Prague bears all the traces of a forgotten world. This quality alone makes it an ideal holiday destination for those who possess a highly refined spirit. Even a short walk through its labyrinth of downtown streets will explain why it has inspired so many creative masters. Prague is a mysterious city, a riddle that's never been solved. And whether you're a first-time visitor or a seasoned veteran of Old World travel, it's the perfect spot for your next senior holiday.
Senior Holidays in Costa Rica
For relaxation and warm fun in tropical latitudes, consider a holiday in Costa Rica. We've unearthed a pair of lesser known spots for you to ponder. The first is a small place called Cocos Island. Designated a national park, Cocos Island is known for its solitude and an abundance of large marine life. The second destination is Cahuita, a small city on the Caribbean coast that features black sand beaches, eclectic dining, and a laid back atmosphere. Visitors can hike a lazy trail to a forest area that's even more secluded than the beaches. Holiday in Cahuita and you'll be amazed at how slowly time passes.
Baden-Baden, Germany
The next destination we suggest is Baden-Baden in southwestern Germany. Nestled along the edge of the imposing Black Forest, Baden-Baden is a wonderful city for seniors to visit. There are several reasons for the city's appeal, not the least of which are the thermal baths that made it famous during the 19th century. Visitors can still enjoy these warm spring waters, even if they are more soothing than magical. There's a large amount of culture to experience in Baden-Baden as well. In fact, the city is packed with so much refinement that it has a neighborhood called The "Cultural Mile." Baden-Baden is also home to the Festspielhaus, the second largest concert hall in Europe. When you add in the natural beauty of the Black Forest and its hiking trails, it's easy to see why Baden-Baden remains popular with retired Brits.
Washington Island, Wisconsin
You may not have heard of it yet, but Washington Island is a wonderful place for seniors on holiday. Located off the tip of the Door Peninsula in northeast Wisconsin, you reach the tiny island by way of a half hour ferry ride. En route, you'll pass over Death's Door, a small area where hundreds of shipwrecks have occurred over the ages, often for mysterious reasons. No need to worry, though. You'll reach the island in fine shape, eager to experience the arresting charms that have made Washington Island a popular destination for Americans and Brits alike. With its constant Lake Michigan breezes and cooler temperatures overall, Washington Island is especially pleasant during the summer. You'll love its Scandinavian architecture, its crystal clear waters, and the bucolic scenery you'll encounter at every turn. You'll also the florid smell of balsam that comes off of the lavender fields during the summer months.
Aix En Provence
Part of the lovely Provence-Alpes-Côte d'Azur region in southern France, Aix En Provence is a small university town in one of France's most renowned wine regions. Take your holiday here and you'll learn the true meaning of the word "provencal," with all the slowness and warmth it carries with it. Dating back to the Roman Empire, Aix En Provence is a venerable city with a fascinating historical tradition. It was also the birthplace and home of French painter Paul Cezanne. Many of the subjects of Cezanne's most glorious paintings are still visible today, including the abiding beauty of Mount St. Victoire. Another highlight is the exquisite Cathedral of the Holy Saviour, which preserves some of the most breathtaking architectural styles of the last thousand years. With its leisurely pace and Mediterranean feel, a trip to Aix En Provence is vastly different from what you'd experience in metropolitan French cities like Marseilles or Paris. A few days here is like taking a step back from care, stress, and the infernal buzz of the modern world.