Best Features in Smartphone Travel Apps
Category | Travel Tips
Published: 18/06/2018
| Updated: 26/09/2023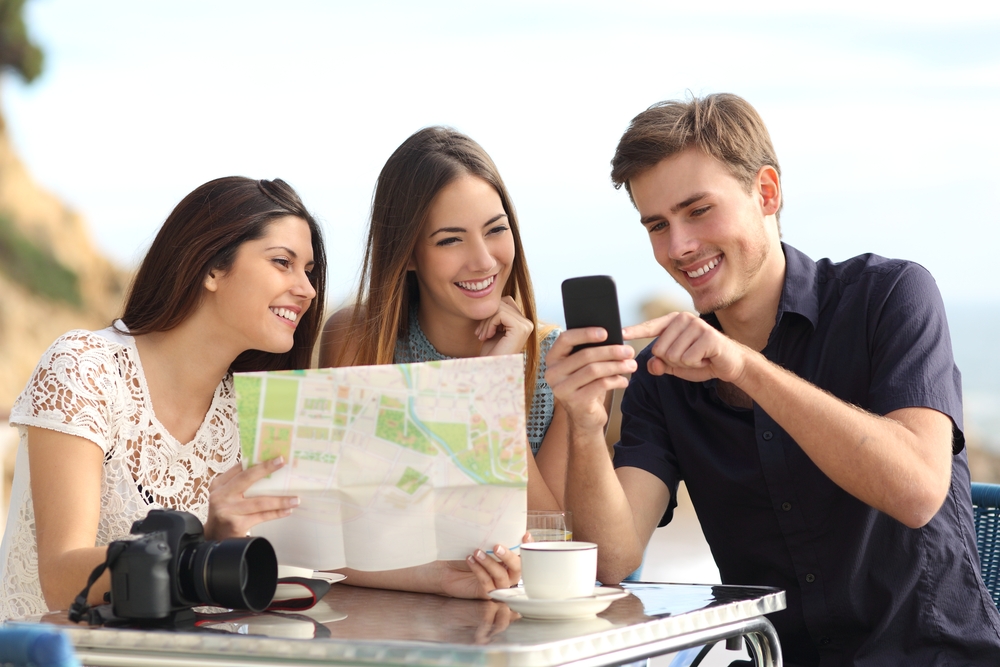 Traveling with a smartphone is like having a personal concierge service, provided that the phone has the right apps installed. Something like a toothbrush is important but easily replaceable; given the potentially high cost of roaming data when traveling outside the country, it's really important to have the right apps upon arrival. Let's take a look at why travelers need to be smart about packing their apps, and use AirgoFX as an example.
What is AirgoFX?
AirgoFX is a smartphone app developed for iOS and Android phones. It's an easy, free download that provides travelers with simple and efficient currency conversion products and services, an international money transfer comparison, to be sure. Users can buy and sell dozens of different types of currency, confident in the most accurate conversion rate. The app is updated using the most recent rates, rather than a daily download of rates that are already out of date. The interface is really simple to use. Choose the type of currency to buy or sell. Look at the currency converter to determine the exchange rate (updated on the spot!). If it's a deal, review and confirm the order. Double-check the order and set the pick-up location for the currency, and it will be there waiting. Want to choose a different location? That's possible, too. The mapping capabilities make it possible to locate any currency conversion branch in a chosen area of travel.
24/7 Accessibility
One of the key benefits of traveling with well-chosen apps is that they're always available. That kind of accessibility makes taking advantage of great opportunities effortless. Let's say travelers in Copenhagen make new friends. And then, they're invited to join these new friends at a little neighbourhood bistro for dinner. Don't stress about cash - an app like AirgoFX means they can purchase Danish kroner straight from their phone and pick up the currency on the way to the restaurant. It also helps when apps are relevant across countries. For example, the AirgoFX covers more that 45 currencies, so it's useful in more than one country.
Where's the Nearest Bureau de Change?
This leads right into why apps with map functions are great travel tools. No more worries about remembering to pack a map, getting oriented while searching for a destination, or losing it! Good travel apps like AirgoFX include built-in mapping functions. Save time and know that the app can provide a route to the destination, in this case, the nearest bureau de change. After all, businesses change locations all the time, that's only natural. However, an app that's updated regularly can save users the hassle of wandering through an unfamiliar city looking for a particular destination.
Great Rates
Tour books, as good as they are, can't possibly keep current with all of the changes that happen. There's simply too much of a lag between writing the book, publishing and selling the book, and travelers use of that book in a foreign country. Having an app means that updates are available right away when changes are made to the app. For most smartphone users, they're updated automatically and seamlessly, behind the scenes. With an app like AirgoFX, currency exchange rates are updated when the market changes, not just at the beginning or end of a business day. This kind of rapid updating provides users with the most up-to-date and accurate information for buying and selling currency at the latest rates.
Beat the Language Barrier
Smartphone travel apps also allow travelers to explore, make plans, and take care of business efficiently and safely because they are working in their native language. No need to worry about how much French or German can be remembered. When arrangements can be made via apps in a native language, travelers have the security of knowing they've made plans with accuracy. For example, instead of a potential communication barrier at international money transfer agencies, travelers can purchase currency ahead of time and have it waiting for them. All travelers need to do is pick it up. It's easy to see that smartphone travel apps can save time, money, and headaches. A currency converter and exchange app might not seem like the most exciting thing to add to a smartphone. It might surprise some folks, and actually be the most important. Travelers want overseas or foreign travel to be enjoyable, not lose time by dealing with miscommunication or time-consuming tasks, like finding a bureau de change, and trusting that theyíve got the currency needed, at a rate that's acceptable. Smartphone travel apps from international money transfer companies, like AirgoFX, offer users the ability to complete routine tasks with speed, efficiency, and security.