Use your Euro Currency Prepaid Card at the German Christmas Markets
Category | Travel Tips
Published: 18/06/2018
| Updated: 24/09/2023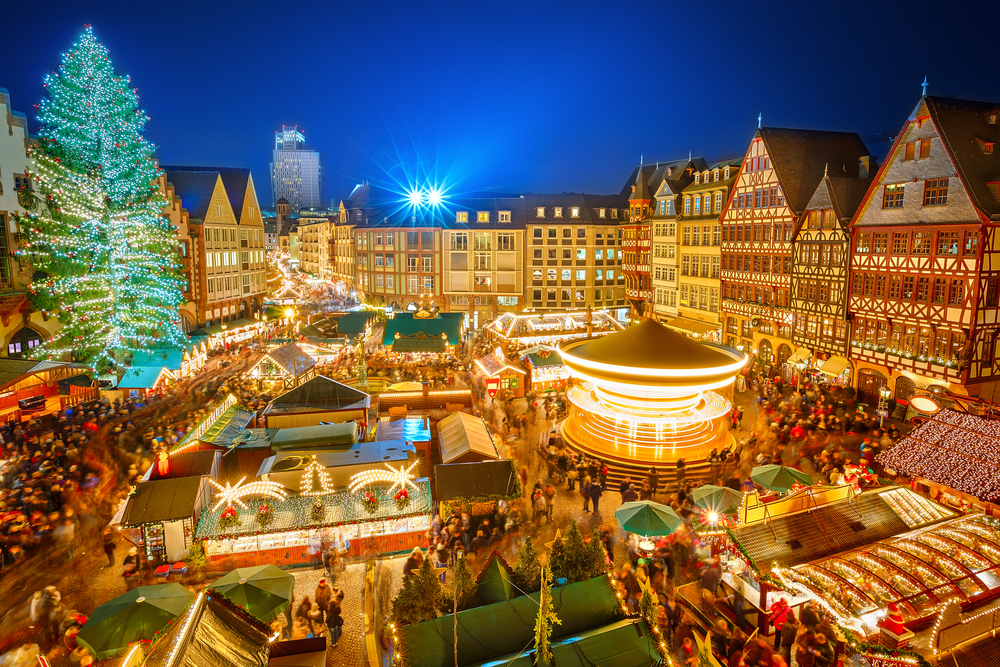 Planning a holiday shopping escape to the traditional Christmas markets of Germany?  Don't leave without your Euro currency prepaid card.  It takes care of all your payments and conversions for you so you can focus on the matter at hand: enjoying the most enchanting holiday markets on earth.
Gear up for the Holidays with a trip to the German Christmas markets.
The traditional festive markets that take place all over Germany every year this time of year are a huge draw.  Even holiday revelers all the way from the Americas head to Germany this time of year for a taste of tradition and a chance to buy wonderful gifts and ornaments that conjure Christmas of yesteryear. The markets are known for their Old World charm, wooden toys, and delicious street food, much of it native to Germany...sausage, raclette, Gluhwein.  Even if you don't plan on shopping, simply seeing the markets for yourself is bucket list-worthy.  Wandering the network of stalls set up in the city center where artisans have set up shop offering wooden toys, beautiful shimmering ornaments, marionettes, or homemade candles will remind you of a time when Christmas was a little less commercial.
Artisans like cash...a euro prepaid travel card handles that.
Frankfurt to Nuremberg, Dresden to Dusseldorf, one thing remains the same: those artisan booths usually prefer cash to credit cards or debit cards.  That goes double for the food vendors, whose wares sell for tiny amounts.  They especially don't want to bother with a chip card (a euro currency prepaid card is chip-enabled). But the problem with that is who wants to carry a lot of cash? Nobody does, and nobody has to either.  It's another reason that getting your euro prepaid travel money ahead of time just makes sense.  Deposited onto a card, your money is safe and secure yet also easily accessible.
Paying in cash at the Christmas markets: here's how it works.
The Christmas markets hearken back to an era when the city center was the hub of activity.  The most logical place for a market was of course in the center of things where vendors could attract passersby. Today, that means wonderful ambiance and convenience for city shoppers.  It also means you're always two steps away from a cash machine. Instead of carrying wads of cash for shopping the markets, opt for convenience with a euro prepaid travel card.  If you get pick-pocketed, it can be canceled immediately just like a credit card, and you won't have lost all your cash. But when you need cash for that artisan-crafted marionette or that metalwork ornament that caught your eye, it's quickly and easily accessible.  The cards are accepted in most ATMs worldwide (also, any retailer where MasterCard is accepted will take your card for a direct purchase). The most effective way to use Euro prepaid travel money is to shop the stalls, take a mental note of what you plan to purchase, add it up, and then hit the ATM for a single transaction.  Then make your purchases, leaving the rest of your money safely tucked away in your prepaid card account.
For that extra special fine gift you couldn't resist, here's how to get more cash.
Prepaid cards can be topped off any time and any place there's an internet connection.  Simply send funds from your bank account onto your card and the money will be available immediately.  Then, that hand-carved 38-piece wooden nativity scene is yours, even if you have to pay in cash and even if it costs more than you originally loaded onto your card.
Here's what it costs for all this convenience and security.
Cash withdrawal fees on the prepaid Euro travel card are only €1.25.  That's lower than you'll find most places.  Keep in mind, since you're using a Euro currency card, you should withdraw in Euros ...an out-of-currency ATM withdrawal fee is double. Loading your card online is free, as is checking your balance.  There's no service fee, no monthly management fee, and no transaction fees on card purchases in Euros.  Finally, if the original load on your card is 1,000 pounds or more, there is no card issue fee. Sounds pretty good- when all you want to do is get to Germany and kick-start your Christmas, perhaps enjoy the gluhwein or savor the scent of frankincense in the crisp open air market at night.  It's good not to worry about your cash needs or the security of your travel money. The German Christmas market season can be experienced in over 60 German cities and towns.  They usually start during the last week of November and go right through December 24th, Christmas Eve.  Try to visit as many as you can while you are in Germany, to sample the unique flavor of each one.