4 Great Senior Cruises for Valentine's Day
Category | Travel Tips
Published: 18/06/2018
| Updated: 26/09/2023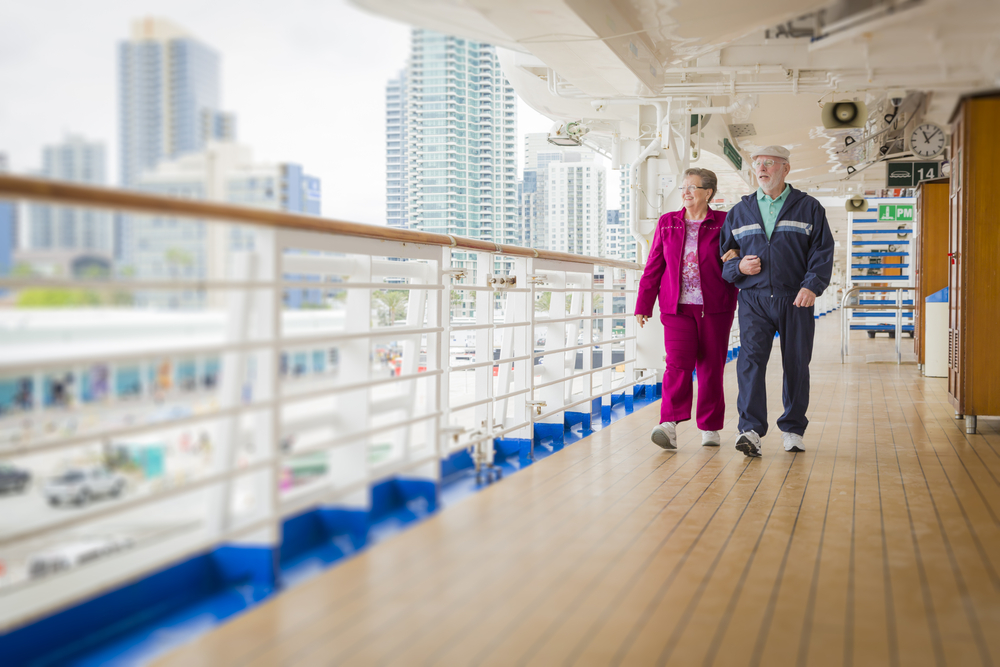 Valentine's Day Breaks for The Over Sixty Crowd
We've spent the past few weeks discussing international holiday destinations, with posts on Dubai, Amsterdam, and Venice. We're going to continue our explorations this time out, but with a slightly different point of emphasis. We're going to focus on Valentine's Day breaks for persons over sixty, with descriptions of some of the most exciting cruise options in the world. There was a time when people thought life had to slip into a lower gear as they grew older. But as society hurtles forward, we discover more and more evidence that this needn't be the case. People stay active longer these days, and their need for action and adventure remains unchanged. Being in your sixties isn't what it used to be. Perhaps it never was. In any case, ACE-FX has unearthed a few cruise options that are perfect for seniors who want to celebrate Valentine's Day in comfort and style. We hope you'll discover one that fits you and your loved one perfectly, and that you'll let ACE-FX facilitate your trip. We offer the prepaid travel cards and currency services that make traveling simpler, wherever you choose to make your ports of call. And if you experience a financial emergency while you're away, we also offer the cheapest international money transfers in the industry.
A River Cruise Can Be a Lovely Way to Spend Your Valentine's Break
Typically, when you think of a cruise, the image of an ocean-going vessel comes to mind. And while sea cruises are a wonderful option for many persons over sixty, there are compelling reasons to consider a river cruise as well. Many seniors report that they enjoy the closeness of the shore and the gentler pace. In a sense, a river cruise is more intimate than one on the ocean. You can see the sights up close, even if you're not making a port of call in a given region. And there's less chance of seasickness as well, as river cruises don't have to contend with erratic ocean waves. Here are a pair of great ideas for senior river cruises.
A Cruise on the River Seine
What better way to celebrate Valentine's than with a week's cruise on the Seine? These cruises are a great fit for romantics, art lovers, and francophiles. They typically offer a few days exploring Paris, with sightseeing and shopping tours designed for seniors. You'll also see beautiful Giverny, home of Monet and his water lilies. There will also be excursions into Normandy, where you'll see a lovely coast and survey the monumental events of the D-Day Invasion. And there will be ample time for relaxing and commiseration as well, with calm hours between ports that you can fill with food, talk, or exercise.
A Tour of The Rhine
For an Old World tour that's both relaxing and exhilarating, consider a cruise on the Rhine this Valentine's Day. These cruises will give you an overview of Germany, France, The Netherlands, and Switzerland. Then, once you've had a broad view, you'll take more obscure routes to exciting ports of call in these four countries. The end result of a Rhine River cruise is a rewarding and memorable experience. It delivers a gorgeous variety of perspectives on the beauty and richness of the continent.
Ocean Cruises For Seniors
For those over sixty who wish to travel the sea, there's an almost endless number of glorious options. As you know, ocean liners are much bigger than their freshwater counterparts, and as a result, they can seem less intimate. But for many seniors, this is a minor disadvantage, one that's more than offset by the buzz of activity and warmer climes the ocean cruise offers. No one over sixty (or anyone for that matter) can go wrong with a cruise on the lovely Mediterranean Sea. An excursion over the western half of the sea will take you to destinations in France, Italy, and Spain. And if you've got something more exotic in mind, a cruise on the eastern Mediterranean will show you the sights in Athens, Montenegro, and the Cyclades Islands. Lastly, there is always the tried and true Caribbean cruise. These are among the warmest and most festive in the world, with an emphasis on relaxation and fun in the sun. On a Caribbean cruise, you'll visit destinations in The West Indies, Belize, The Caymans, and Hispaniola. These are some of the most sun-drenched destinations in the world. You're certain to return from them relaxed, content, and rejuvenated. Wherever you choose to go this Valentine's Day break, ACE-FX helps you get there. Contact us today and we'll help you focus on the pleasurable parts of your trip.